Aaron Till…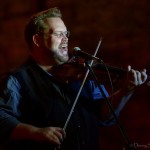 was born in Jacksonville, Florida and grew up in and around Baltimore, Maryland. He started learning to play guitar when he was 10 years old, and began picking up other instruments around 14. He grew up playing in bluegrass bands around Maryland, Virginia, Pennsylvania, West Virginia and Delaware. Aaron plays fiddle, viola, guitar, mandolin, upright and electric bass, 5-string and tenor banjo, Dobro, Hawaiian steel guitar and percussion.
Aaron lived in Wheeling, West Virginia from 1993-95, playing with local country bands and occasionally appearing on the legendary WWVA Jamboree. He landed in Nashville in June, 1995, and before long he was touring with Mark Chesnutt, with whom he would work for nearly 15 years. Aaron spent many years on the road in the U.S. and overseas, playing and touring with various acts across much of Europe and Australia, and at U.S. military bases in South Korea, Iraq and Kuwait.
A respected sideman and studio musician in Nashville for over 20 years, Aaron has fiddled and sung with Pam Tillis, Jerry Reed, Mark Chesnutt, Tanya Tucker, Joe Diffie, Gail Davies, Wade Hayes, Raul Malo, Mel McDaniel, among many others. He's played Western Swing with Asleep At The Wheel, and bluegrass with Jim & Jesse and the Virginia Boys, J.D. Crowe and the New South and the Nashville Bluegrass Band. His fiddling has been heard at the Grand Ole Opry, the London Palladium, the Montreal Jazz Festival and the White House. His studio credits include Jim Lauderdale's 2008 Grammy Award winning "The Bluegrass Diaries," and the Mavericks' albums, "In Time," and "Brand New Day."
These days Aaron divides his time between Nashville and Switzerland, playing concerts with his wife and musical partner Tabea Anderfuhren. Together they make music covering everything from country, bluegrass, folk, and Celtic music to swing, jazz, rock and classical music.